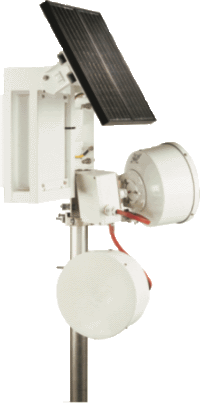 In the last few years network operators are facing rapid growth and fast migration from TDM to packed traffic. The main challenge is how to optimize investments and reduce maintenance costs. The transition from legacy circuit network (TDM) to high-speed packet network is rapid and new equipment must support both technologies. New telecom operators need low entry and operational costs, but also scalable equipment in order to follow future market developments. SparkWave is optimized for different propagation conditions in different weather conditions. In many cases, spectrum economy plays a major role in considerably reducing operating costs. 
 
          Active repeater SparkWave AR is ideal, cost effective solution for non line of sight applications of point to point microwave links. Due to its low power consumption, it can be powered by solar and/or wind power. This is very suitable for locations where no power supply is available, especially ecologically sensitive locations. Low power consumption and high capacity of the battery assures autonomy in case of long-term bad weather.
         The solution is similar to so called 'back to back' parabolic antennas. But by adding 60 - 65 dB of gain and relatively high output power, it offers new opportunities for connections where no line of sight (NLOS).
          Its attractive frequency bands can assure relatively long hops as well as replacing expensive and capacity limited satellite connections. Its linearity allows modulation up to QAM256.

          In combination with SparkWave SDR microwave links, it enables transmission of PDH, SDH, and/or Ethernet more than 360 Mbit/s full duplex.
          The active repeater site contains an AR module and two antennas. The AR module is built into watertight housing. One of the two antennas can be mechanically integrated with the AR module while the second one is connected to the AR module using flexible waveguide. The device can be supplied with a solar panel, voltage converter and batteries.


          Main features

- high RF gain and automatic gain control;
- high RF output power; 
- low power consumption;
- certified for high temperature changes (- 50°С to + 50°C);
- high linearity/modulation up to QAM256;
- available frequency bands 7, 8, 13, 8 and 23 GHz.
          Technical data
 
 Frequency range (GHz) 
 7
 8
 13
15
 18
 23
Channel BW (MHz)
 7 - 56
7 - 56 
7 - 56 

7 - 56 

55
56 
 Ouput power up to QAM 16 (dBm)
 21
21 
18 
16
13 
13 
 Ouput power up to QAM 256 (dBm)
 17
17 
15 
14
10
10 
RF gain (dB)
 > 60
>60 
>60 

>60 

>60 
>60 
Automatic gain control window (dB)
 25
25 
27 

27 

25
25 
 Maximum input level (dBm)
-25 
 -25 
 -25 

 -25 

-25  
-25  
Noise figure (dB)
4
4 
4 
4
4 
4 
Power supply (V)
from 12 to 26

from 12 to 26

from 12 to 26

from 12 to 26

from 12 to 26

from 12 to 26

 Power consumption (W)
 5
5 
5 
5
4,5 
4,5 
 Temperature range (°C)
-50...+50
-50...+50
-50...+50

-50...+50

-50...+50
-50...+50
Housing dimensions HхWхD 

(mm)

  
230х325х110 
230х325х110 
230х200х110 

230х200х110

230х200х110 
230х200х110 
Weight without antennas
and power supply (kg)
4,5 
4,4 
4,25 

4,25 

4,25 
4,3