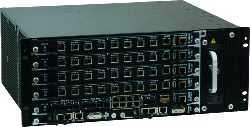 SparkLight is a compact, powerful, highdensity and user-friendly, next generation SDH multiservice node for provisioning of PCM (voice, data), PDH (E1, E3), SDH (STM- 1, STM-4, STM-16) and Ethernet (FE, GbE) over SDH/xWDM.
          SparkLight ADM-16 a compact, high-density STM- 16/4 next-generation access multiplexer, that helps to support high-speed communications services. Providing a wide variety of interfaces, on one common platform, allows the service provider to build effective, flexible, user-friendly communications network.
          Extremely powerful EoS tools enable a smooth migration from TDM to packet services. Using VCAT to provide flexible bandwidth assignment from 2Mbps to 1000Mbps, and LCAS for reliable bandwidth efficient transport of many different packet services.

          The management system with Java Web Start user interface, SNMP agent and OSPF router is built in. Consequently noadditional software except a PC with a web browser is needed to set up the telemanagement system.            
Benefits
- provides revenue-generating next generation Ethernet services while preserving investments in legacy SDH networks;
- optimized bandwidth utilization for Ethernet services using GFP, VCAT, LCAS functionality;
- effective management integration using Java Web Start GUI and SNMP protocol transported by an embedded IP/OSPF telemanagement network;
- compact solutions improves place and energy efficiency that can help lower operating expenses;
- easy migration from TDM to IP;
- low OPEX/CAPEX.
         

Features



-
2 and 5 slot »high Availability« shelf with power supply redundancy;
- non blocking 17.5G@VC-4 and 3.7G@VC-12 cross-connect;
- SDH Line Features:
          - up to 4 STM16/4 SFP based optical interfaces;
          - up to 4 STM4/1 SFP based optical (in case of STM1 also electrical) interfaces;
          - WDM ready;
          - supported many different SDH protection mechanisms;
-  packet Features:
          - up to 8 10/100 Eth interfaces;
          - up to 2 Gbit Eth interfaces; 
          - GFP-F Mapping (Optional GFP-T for Gbit Ethernet);
- VCAT and LCAS protocol support;
- enhanced L2 Aggregation support;
- up to 252 E1 interfaces in 5 slot chassis (max 63 E1 interfaces on special multiport E1 blade);
- Java Web Start and SNMP based integrated management.

          Example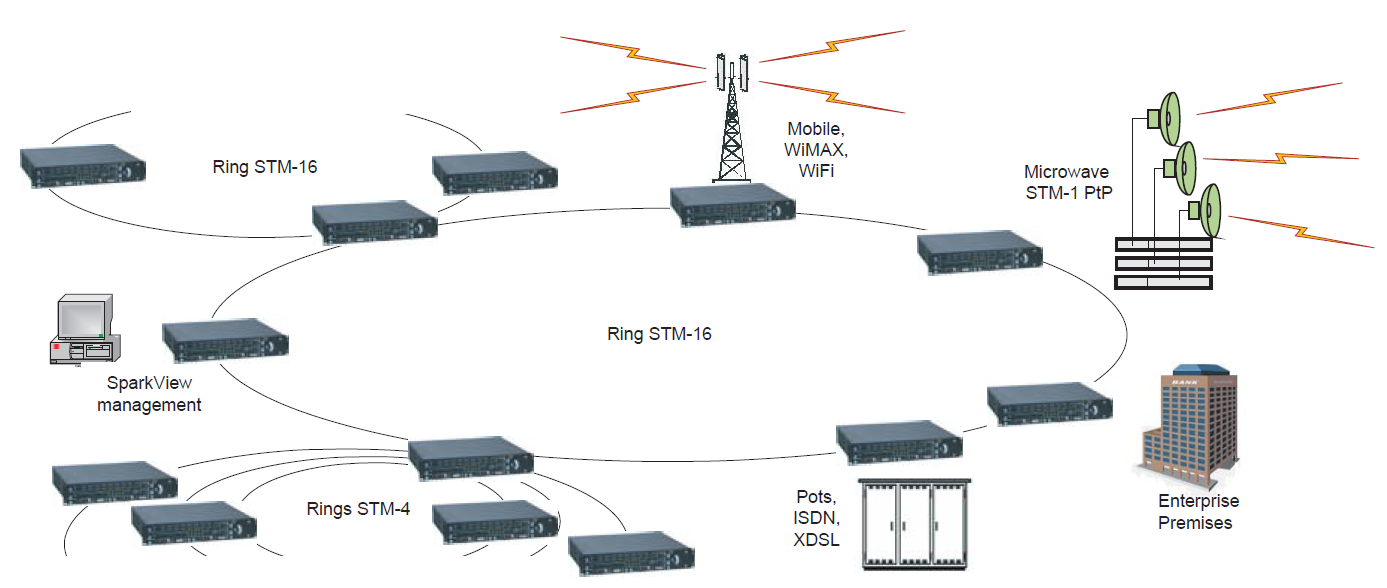 Applications

- backbone networks;
- backhaul network for wireless and wire-line operators;
- access networks for Enterprises;
- multi-service network for energy, traffic, utilities operators.
          Technical data
 ARCHITECTURE

 Shelves

 Central blade

 Tributary Blades 

 NE Types

 HW Redundancy
 2U, 4U

 STM-16 blade

 32xE1 blade, 31xE1 RTM blade, 3xE3 blade
 
 STM-16 terminal, ADM-16, CC-4xSTM-16/4+4xSTM-4/1 

 central blade, tributary blades, management module, power module
 AGGREGATE INTERFACES
 STM-16/4

 STM-4/1

 Compatibility

 

 Suitable SFP modules
 4 interfaces on STM-16 blade

 4 interfaces on STM-16 blade 

 SFF-8472, SFF-8074i,
 MSA Digital Diagnostics Monitor compliant,
 SFP Transceiver MSA Spec.

 optical STM-1/4/16 up to 120 km, ITU-T G.957, Electrical STM-1
 TRIBUTARY INTERFACE Е1
 

Number of interfaces



 ITU-T Rec., rate

 Nominal impedance
 up to 252xE1 ports (63xE1 per slot)

 G.703 point 6., 2.048 kb/s

 asymmetrical 75 Ohm, symmetrical 150 Ohm
 

TRIBUTARY INTERFACE 

E3

 

Number of interfaces


 ITU-T Rec.,

 rate

 3xE3 ports (per blade)
 G.703 point 8., 34,386 kb/s
 ETHERNET INTERFACES
 

Number of interfaces

 


 Types of Ethernet 10/100 interfaces

 Types of Ethernet 1000 interfaces
 8xEthernet 10/100,
 2xEthernet 1000

 10 Base-T/100 Base-T (RJ45)

 1000 Base-SX/LX/CX SFP module (optional electrical RJ45 SFP)
 SDH FEATURES
 Capacity crossconnect



 Connectivity

 Ethernet over SDH (EoS)




 
 Ethernet aggregation





 Protection

 Synchronization
 
 
 incoming - 112хSTM-1 (17, 5Gb/s HO);
 outgoing - 23xSTM-1 (3.7 Gb/s LO);
 nonblocking 

 VC-12, VC-3, VC-4, VC-4-Xc (X=1...16)

 ITU-T G.7041, GFP (Generic Framing Procedure);
 optional GFP-T for Gigabit Ethernet;
 ITU-T G.707/Y.1322 in G.783, VCAT (Virtual Concatenation);
 ITU-T G.7042/Y.1305 LCAS (Link Capacity Adjustment Scheme);
 up to 32 VCG (Virtual Concatenated Groups)
 
 VLAN stacking (Q-in-Q); 
 classifying function based on port ID, VLAN tag or priority bits in MPLS; 
 policing function based on MEF5 technical specifications;
 up to 256 service queues 

 UPSR/SNCP, MS APS, BLSR/MS-SPRING

 standard: ITU-T G.813;
 sources: T1, T2, T3, E1 (framed/unframed);
 outputs: T4, E1 (framed/unframed)
 MANAGEMENT
 Protocols

 Interfaces

 Functions
 SNMP, CLI, Telnet

 10/100 Base-T, RS-232, USB

 fault, performances, configuration, access management
 ENVIROMENTAL CONDITIONS
 Operation climatic

 Storage/transport

 EMC compatibility
 -5°С...+45°С/8...95% ETSI EN 300 019

class

3.1Е

 ETSI EN 300 019 class 1.1/class 2.3 

 ETSI 301 489-4 
 POWER
 Power Supply
 Power consumption
 redundant -38 V to -72 V (optional AC 230 V) 
 <60 W/blade
 MECHANICAL
 Dimensions (

H

 х

W

 х

D

)


 Weight
 88x448x430 mm - 2 slots, 176x448x430 mm - 4 slots
 <12 kg - 2U,                    <18 kg - 4U