In the last few years network operators are facing rapid growth and fast migration from TDM to packed traffic. The main challenge is how to optimize investments and reduce maintenance costs. The transition from legacy circuit network (TDM) to high-speed packet network is rapid and new equipment must support both technologies. New telecom operators need low entry and operational costs, but also scalable equipment in order to follow future market developments. SparkWave is optimized for different propagation conditions in different weather conditions. In many cases, spectrum economy plays a major role in considerably reducing operating costs.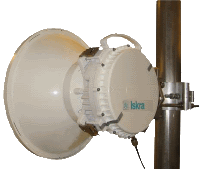 The equipment SparkWave series has different outdoor and indoor radio relay units. SparkWave SDR indoor unit is modular. Different housings and high integration level allow easy interconnection, stacking with ESSI interface and direct connection to existent F/O networks. Outdoor units (ODU) is connected to the IDU via single coaxial cable up to 400 m. The outdoor units are connected to antennas using waveguide up to 1.8 m.           
         SparkWave SDR GE2A is a multipurpose cost effective point to point microwave radio. This easy-to-use, split mount, dual microwave link is designed for high capacity Gigabit Ethernet applications. Up to three independent cooper Gigabit Eththernet and four SFP slots.
        Operating frequency ranges from 5 to 42 GHz, including 17 and 24 GHz no licensed bands. Modulation up to QAM1024 and bandwidth up to 80 MHz can assure effective, flexible and scalable connections even for very long distances and/or for very high capacities. One indoor supports two ODUs, allowing any version of 1+1 or 2+0 configuration.
         ACM (Adaptive Coding & Modulation) in combination with QoS (Quality of Service) guarantees transmission of real-time critical services without latency variation, even in case of bad weather conditions.
         Aggregation possibility of native Ethernet guaranties both redundancy and higher capacity in 2+0 mode, reaching over 900 Mbit/s full duplex on 56 MHz channel. XPIC allows to reuse the same channel twice.
         Optionally additional native E1 or ASI can be configured. Up to 4x16E1 can be carried out using external termination box.
Applications:
- backbone networks for packet / TDM service providers;
- cellular / CDMA / LTE / WiMAX backhaul networks;
- fixed wireless networks;
- enterprise/corporate campus/business park LAN extension;
- replace carrier leased lines, eliminate expensive recurring costs;
- wireless IP / Ethernet Video Streaming / Surveillance;
- access networks for Enterprises;
- multi-service private wireless networks for energy, traffic, utilities operators;
- extension of the ISP access network area (i.e. for the triple-play);
- temporary broadband connection for major outdoor events or in case of natural disasters.


          Features:

- split-mount or optional all-indoor architecture;
- two ODUs per one IDU half 19 inch/1UI;
- licensed frequency bands: 5-42 Ghz;
- modulation hitless adaptive or fixed up to QAM1024;
- bandwidth up to 80 MHz;
- spectral analyzer function;
- Ethernet aggregation;
- bitrate up to 900Mb/s (2+0@56 MHZ channel);
- up to 4096 VLAN;
- MAC table - up to 8192 addresses;
- maximum Frame Size - 10K;
- protective configurations 1+0, 2+0, 1+1 (FD/SD/HSB);
- synchronization IEEE 1588;
- data encryption AES-128;
- latency below 200?s;
- QoS: Source Port, 802.1p, IPv4 TOS/DSCP, IPv6 TC;
- VLAN ID;
- SFP for GE interface optical/electrical; 
- up to 4x16E1 interfaces using external 16E1 box;
- indoor unit 1U high and ? U width;
- WEB based EMS.
Technical data
 Modulation

QPSK, 16QAM, 32QAM, 64QAM, 128QAM, 256QAM, 512QAM, 1024QAM
Number of IF channels
2 channels, Dual-channel modem
Channel BW - ETSI

14 / 28 / 40 / 56 / 80 MHz
IF Connector

N-type female 2X

TX power 5-8 GHz/QPSK

30 - 21 dBm
TX power 13-18 GHz/QPSK-1024
26 - 16 dBm
TX power 23-26 GHz/QPSK-1024
25 - 15 dBm
TX power 32-38 GHz/QPSK-1024
23 - 13 dBm
Compression function

Online Ethernet L1 header compression

Max. Real Data Throughput

up to 1.374 Gbps in 2+0 mode at 80 MHz channel

Co-channel transmission
XPIC supported for dual-polarization transmission
Security
AES-128/256 Encryption
Number of Eth ports
3 x Gigabit Ethernet (RJ-45)
4x SFP (1000BASE-SX/LX)
Maximum Frame Size
up to 2048/10240 bytes
VLAN
up to 4096 VLANs
QoS
Source Port, 802.1p, IPv4 TOS/DSCP, IPv6 TC, VLAN VID, SA/DA
PTP 1588
(FLP) fixed latency PTP 158
MAC table
up to 8192 addresse
Main NMS ports
ETH port LAN
Additional NMS ports
serial interface over USB-B (alternative IP port)
Protocols – Network
HTTP, HTTPS, SNMP v.1/v.2c/v.3, TELNET, SSH
Operational temperature range ODU
 -35°C  to + 55°C
Operational temperature range IDU
 -5°C  to + 50°C
Power consumption IDU and ODU
55 W max.
Weight IDU
3,9 kg
Weight ODU
2,2 kg
Dimension [w x h x d] IDU
?330 mm х 95 mm
Dimension ODU
220 mm х 44 mm х 240 mm