In the last few years network operators are facing rapid growth and fast migration from TDM to packed traffic. The main challenge is how to optimize investments and reduce maintenance costs. The transition from legacy circuit network (TDM) to high-speed packet network is rapid and new equipment must support both technologies. New telecom operators need low entry and operational costs, but also scalable equipment in order to follow future market developments.
          SparkWave is optimized for different propagation conditions in different weather conditions. In many cases, spectrum economy plays a major role in considerably reducing operating costs.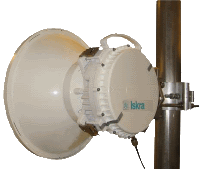 The equipment SparkWave series has different outdoor and indoor radio relay units. SparkWave SDR indoor unit is modular. Different housings and high integration level allow easy interconnection, stacking with ESSI interface and direct connection to existent F/O networks. Outdoor units (ODU) is connected to the IDU via single coaxial cable up to 400 m. The outdoor units are connected to antennas using waveguide up to 1.8 m.     


          The SparkWave SDR is intended for microwave transmission of operating in 5, 6, 7, 8, 11, 13, 15, 18, 23 and 26 GHz frequency range. Powerful multi service SDH ADM-1/4 multiplexer is integral part of the radio IDU.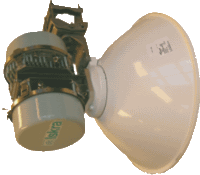 Any ADM combination (optical/electrical-radio, radio-radio or optical/electricaloptical/ electrical) is possible. The capacity of radio links and electrical interfaces is STM-1. Optical interfaces can be STM-1 or STM-4 Many different radio and SDH protection mechanisms are available. Split Mount solution with ADM IDU and compact ODU. Various tributary interfaces (E1, E3, Ethernet 10/100/1000), a powerful cross-connect matrix (16XSTM-1 equivalent) and stacking connectivity gives opportunity for powerful, flexible and effective SDH optical and/or radio solutions.
           A management system with an SNMP agent and a OSPF router is built into the unit. No additional equipment except a standard PC computer with built-in web browser is needed.
          The unit enables operation in ATPC (Automatic Transmitted Power Control)mode..
  
          Technical data
 
Frequency plan
 5,6,7,8 GHz
11 GHz
13 GHz
15 GHz
18 GHz 
23 GHz
26 GHz 
 RF output power in dBm
22/26
21/26
20
20
19
18 
18
Channel spacing
28 MHz
 28

MHz

28

MHz

28

MHz

  
27,5

MHz

28

MHz

 28

MHz

Frequency stability
      ± 5 х10-6 
Frequency seeting step
0,25

MHz

ATPC output power adjusting range
20 dB in 1 dB step
Receiver treshold at antenna connector in dBm for BERR=10-6 
modulation                                                28

MHz


128QAM                                                      -69
 Link protection modes
Hot Stand-By, Space Diversity, Frequency Diversity, Hitless switch
Line interface
bit rate
installation mode
155.52 Mb/s ±20 ppm 
SFP plug-in modle (electrical or optical)
 Tributary interfaces
PDH interface 
ITU-T recommendations
bit rate
E1
G.703 point 6
2048 kb/s  
E3
G.703 point 8
 34368 kb/s
SDH 

interface

 




bit rate


installation mode

155.52 

Mb/s

 ±20 

ppm

 


SFP plug-in modle (electrical or optical) 
Ethernet interface 
10Base-T/100 Base-TX adaptive;
1000Base-SX/LX/CX or 1000Base-T;
compatibility IEEE 802.3 half duplex and full duplex;
  IEEE 802.3u auto-negotiation;    
mapping mode
ITU-T G.7041, GFP (Generic Framing Procedure);
ITU-T G. 707/Y.1322 in G.783 VCAT (Virtual Concatenation);
ITU-T G. 7042/Y.1305 LCAS (Link Capacity Adjustment Scheme);
transmitting capacity via SDH Adaptive N x VC12/VC3/VC4.
Other interfaces
management interface
service channel interface
10 Base-T/100 Base-TX adaptive;
10 Base-T/100 Base-TX adaptive;
V.24, V.11;
Mechanical / Environmental
operation climatic conditions (temp./humidity.)
indoor unit (

IDU

)


-5°С...+45°С/8...95% ETSI EN 300 019 class 3.1Е


outdoor unit (

ODU

)


-33°С...+50°С/5...100% ETSI EN 300 019 class 4.1Е (-50°С...+50°С option)

storage/transport conditions
ETSI EN 300 019 class 1.1/class 2.3    
EMC compatibility
ETSI 301 489-4
power supply
from 20V to 72V ETSI EN 300 132
power consumption IDU
power consumption ODU
<35 W - 1U,  <57 W - 2U
<25 W 
dimensions (H x W x D) IDU


dimensions 

(H x W x D) ODU

45 х 442 х 240 mm - 1U; 86 x 442 x 240 mm - 2U
200 х 150 х 80 / F305 x 120
weight IDU
weight ODU
3,17 kg - 1U; 5,96 kg - 2U
<6 kg